Give yourself a perfectly shaved back in just minutes!
As guys, one of the most difficult tasks is grooming our backs. It seems like every time we take care of that hairy mess, it's time to do it all over again. Well, thankfully, now with the Back Shaver Max you can get a perfectly groomed back in just minutes!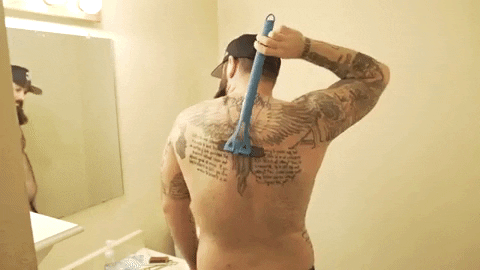 BENEFITS:
Quick, Pain Free, and Do It Yourself –  Gone are the days of using a razor to shave your back, or worse awkwardly asking someone else to do it for you. The Back Shaver Max utilizes special Dry Glide blade cartridges that connect to a 17 inch handle to get to those hard to reach areas and get rid of unwanted back hair in just minutes!
Shave Wet or Dry – The Dry Glide Blade cartridges were engineered to glide across your back with ultimate precision no matter if it is dry or wet. 

Safe Blade Technology- The Back Shaver Max is equipped with safety guards that ensure a smooth glide, preventing cuts and irritations, giving you a painless experience throughout the shave!